Coming Soon: The Fowler House Garden and Conservatory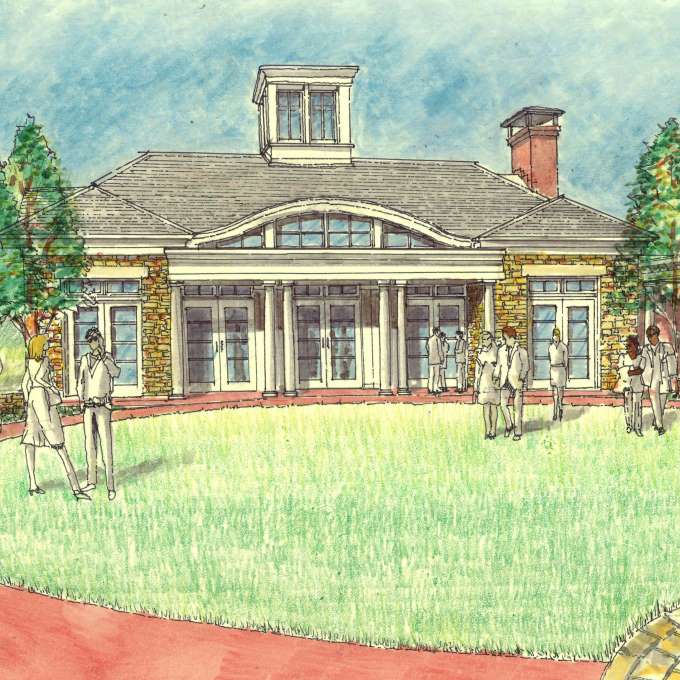 The Wallace W. and Jama M. Fowler House, the chancellor's residence on the University of Arkansas campus, will soon be able to expand its capacity for hospitality thanks to an additional $2.93 million gift from its namesakes.
The Fowler House Garden and Conservatory will be a separate structure designed to hold large seated dinners and receptions, meetings and other events and will have a seated dinner capacity of 120 people, as well as a 300-square-foot catering kitchen. In addition, funds will be used for the surrounding grounds to create a garden area for large events where more than 250 people could be seated under a tent for dinners or more than 500 could attend a tailgate or reception. The gift will also allow for flower beds, planting of trees and improvement of the general aesthetics of the space in front of the house facing Razorback Road.
"Jane and I have been honored to live in Fowler House for the last six years," Chancellor G. David Gearhart said. "It has been an incredible residence and superb venue for hosting dignitaries and events. The Fowler House Garden and Conservatory, which was included as phase two in the original plans, will be a beautiful addition to the house and our campus as a whole. The Fowler name has become synonymous with philanthropy in Arkansas, and they have been wonderful friends of the university. The Fowler House Garden and Conservatory will give us the opportunity to showcase their generosity even more."
Completed in 2008, Fowler House not only serves as the primary residence for the University of Arkansas chancellor but also functions as a campus resource, used to host students, faculty, staff, alumni and friends in a variety of campus celebrations.
Prior to its completion, the university lacked a suitable on-campus location for certain special events or for hosting dignitaries and heads of state. In the last six years, Fowler House has become known as the "campus living room," by allowing the university to further extend its hospitality in a comfortable and beautiful location designed to make guests feel especially welcome. Since its completion, the house has held more than 800 events, with more than 17,000 guests in attendance. Significant dignitaries have included former President Bill Clinton, former Panama President Ricardo Martinelli and several presidential cabinet members, U.S. senators and governors.
"We have greatly enjoyed seeing how the University of Arkansas has utilized this space over the years," said Wallace Fowler. "We understood the importance of the chancellor's residence when we made the initial gift, but it has been very meaningful to see how this home has become a focal point for hospitality, celebrations and significant events."
"Our hope is that this addition will bring Fowler House to a new level and give the university even more variety in the types of events that can be offered to alumni, faculty, staff, students and friends," said Jama Fowler.